Registration Process of the First Academic Period 2018
Undergraduate Programs

Mr. Student: We invite you to keep in mind the following information for the registration process:
1. Data update day (date of birth, names, identity document, personal and institutional e-mail, cell phone number, residence address and others) of 1 from August of 2017 to 1 of December of 2017, and of 1 of February from 2018 to the 1 of July of 2018 in the Registry and Control office.
2. Registration of Subjects: By Internet on the date and time assigned, and cases with specific requests in the Division Secretariats.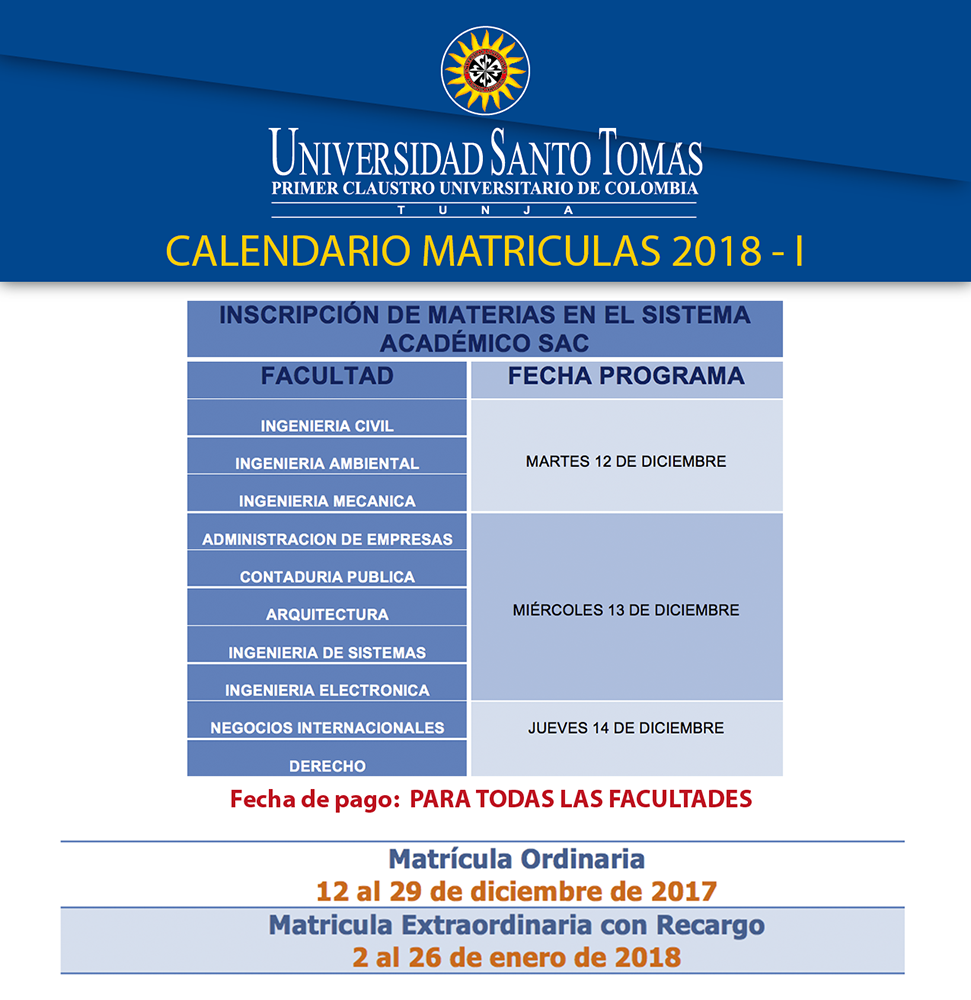 3. Before starting to complete the registration process, verify that there are no pending requirements to be submitted, which can be consulted at the following link: http://liquidador.usta.edu.co/horariom.cfm
If you have pending requirements, in this same link indicates the dependency to which you must go to be safe and sound. This will avoid unnecessary rows and continue with the respective process. It will only be unlocked if it meets all the requirements demanded by the University.
Attention: The student debtors will be blocked on 5 December Day from 2017.
4. In the link https://sites.google.com/site/registroycontrolustatunja/ is the enrollment calendar by faculty for the First Academic Semester of 2018. It is necessary to take it into account so as not to incur errors that generate setbacks in the payment and as a consequence not appear on class lists or not be able to enter the University.
5. Consult the date and time assigned to enter to make the registration in the SAC by internet in the link http://liquidador.usta.edu.co/horariom.cfm and enter the identification number, here you will also find information relevant to the possible subjects to enroll and pending requirements to be submitted for the first Academic Semester of 2018.
6. You must go online to the SAC to make your registration on the date and time assigned, in case it is not possible, you can do it on the same day assigned after the 6: 00 pm until the 6: 00 am
You can also go to the systems room assigned at the Headquarters to carry out the 12 registration process to the 14 of December of 2017 from the 7: 00 am to the 5: 00 pm in continuous day.
Mayores Informes:
Registration and Control Department
PBX: 7440404 ext. 5920 - 5921 - 5922