We are the institutional newspaper of the Santo Tomás University, Colombia.
Its purpose is to set a critical stance against the national situation and provides elements of analysis for the reader.
Content nourished by academic transdisciplinarity.

See brochure here

See manifest here
No. 7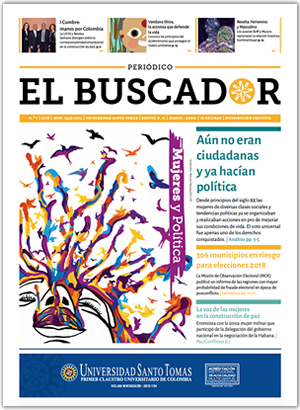 "Women and Politics" is the central theme of this edition in which various ways in which women have made and do politics are reported, either inside or outside institutions. In the Analysis section, an account is made of the political actions waged by Colombian women in the first half of the 20th century, even before they won the right to vote, because, because they were not considered citizens, they had to settle their demands by other means such as social movements. Following this line, in the Sustainable Development section, the pillars of ecofeminism are exposed, a system of political thought, of which, one of its main exponents, Vandana Shiva, reevaluates the values ​​on which the extractivist development model is sustained, which degrades the environment. Readers will also find an interview with Juanita Millán, the only military woman who participated in the negotiations in Havana, and with María Catalina López, student representative in charge of the Faculty of Sociology. Finally, we publish a fragment of the report presented by the Electoral Observation Mission (MOE) with the regions of Colombia at greatest risk for electoral fraud.

See digital edition in format PDF here
See digital edition in format FLIPBOOK here